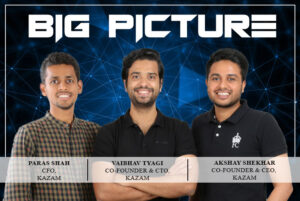 Offering a unique e-mobility enterprise software platform, Kazam has built its platform to digitize the entire value chain from managing energy from the grid to fuelling an EV to managing a fleet.
Kazam's software manages fuelling for EVs and is used by a range of vehicles including 2W, CEV 3W, city buses for local transport and more.
Targeting to create an identity for its fuelling operators by offering a white-labelled suite of software, Aishwarya had a chat with Kazam Founders, Akshay Shekhar, CEO & Vaibhav Tyagi, CTO on the significance of integrating software in next-generation vehicles.
Tell us about Kazam's major products that separate them from their competitors.
Kazam's major products that set them apart from competitors are their device agnostic e-mobility software platform and their e-mobility enterprise software. These products enable EV charging and swapping operators to control, manage, and analyze their fueling assets effectively. The collaboration with multiple tier-1 EV OEMs further strengthens their offering, allowing operators to generate revenue demand. Kazam's platform stands out due to its flexibility, integration with leading OEMs, and comprehensive features for efficient e-mobility operations.
Kazam's agnostic systems offer a groundbreaking solution that sets them apart from the competition. Kazam manages 170mwhour and 2 million km. These systems enable seamless data exchanges throughout the entire vehicle value chain, regardless of whether it involves a utility grid, a charging station operator, or even the vehicle manufacturer themselves. Kazam has developed a unified layer that facilitates data interoperability and agnosticism, ensuring that all stakeholders can collaborate effectively. With this innovative approach, Kazam has created a platform that promotes harmonious cooperation and empowers everyone involved to work together towards shared goals.
Software integration in automotive has become a norm in 2023. What's your stance on the role of software led systems integrated in next-gen vehicles?
Over the past 45 years, the transportation industry has undergone a significant disruption. Previously, the primary objective was to transport goods or individuals from point A to point B. However, with the advent of internet connectivity, a multitude of applications have emerged, revolutionizing the way we interact with vehicles. These applications encompass diverse functionalities, such as assessing the vehicle's efficiency, determining insurance premiums based on usage patterns, predicting the overall lifespan of the vehicle, optimizing energy sources, and leveraging the vehicle as an energy storage system for powering other devices like homes. The integration of internet connectivity has opened up a world of possibilities, enabling numerous developers to create innovative applications that enhance the capabilities and utility of connected vehicles.
As for software-led systems integrated in next-gen vehicles, Kazam play a crucial role in enhancing vehicle performance, safety, and user experience. With advancements in technology, software integration has become a norm, enabling features such as advanced driver assistance systems, connectivity, and over-the-air updates. Software-led systems will continue to shape the future of vehicles, offering improved functionality, customization, and adaptability to changing consumer demands.
Offering vehicle analytics and fleet management services, are Kazam CMS platform subscription based or one-time purchase. Kindly talk about your CMS model.
Kazam's comprehensive fleet management solution encompasses an advanced e-mobility software suite. This suite comprises a robust combination of a Charging Management System (CMS), a Network Fleet Management System (NFMS), and efficient grid management capabilities. The CMS enables effective monitoring and control of charging infrastructure, optimizing charging operations for electric vehicles within the fleet. The NFMS empowers fleet managers with comprehensive fleet analytics, real-time vehicle tracking, and intelligent fleet optimization tools.
Kazam's CMS platform operates on a subscription-based model. This means that operators can access the platform and its services through a recurring subscription fee. The subscription model ensures continuous support, updates, and access to the latest features and capabilities. This approach allows operators to have a predictable cost structure while benefiting from ongoing advancements and support from Kazam.
In this era of clean mobility wherein sustainability plays a vital role for every business, what steps has Kazam taken for eco-friendly energy management & EVs?
Kazam recognizes the importance of measurement as the foundation for improvement, especially when it comes to sustainability. Their initial focus lies in digital operations, ensuring the ability to measure and track various aspects of each vehicle's performance. This includes providing insights into overall carbon dioxide emissions and other relevant metrics. By enabling data collection, Kazam facilitates the identification of areas for elimination or reduction, fostering a sustainable approach. Moreover, Kazam extends its support to sustainable practices by accommodating grid-connected solar panels, allowing for the integration of renewable energy sources with the existing charging infrastructure. This innovative approach not only promotes sustainability but also enables the sale of surplus energy, driving a more environmentally conscious and efficient ecosystem.
In line with the importance of sustainability and clean mobility, Kazam has taken steps to promote eco-friendly energy management in EVs. Their software platform enables efficient charging and swapping operations, reducing energy waste and optimizing resource utilization. By offering vehicle analytics and fleet management services, Kazam supports operators in optimizing their operations for energy efficiency and reducing their carbon footprint. The platform's data-driven insights and features contribute to sustainable mobility solutions.
Key challenges Kazam faced while developing its CMS platform and are these services customizable?
Developing the CMS (Charging Management System) poses significant challenges due to the multitude of integrations involved. Kazam understands the importance of ensuring that diverse protocols work together seamlessly. With a focus on serving large enterprise accounts, providing a streamlined and hassle-free charging experience becomes a top priority.  Kazam overcame these challenges through extensive research, collaboration with industry partners, and iterative development processes. The CMS platform is designed to be highly customizable, allowing operators to tailor it to their specific needs and preferences.
Mention the significance of digital platforms in automobile industry and how is Kazam leveraging its platform to fill the gap in grid connectivity?
Digital platforms play a significant role in the automobile industry by enabling connectivity, data analytics, and efficient management of resources. Kazam leverages its platform to bridge the gap in grid connectivity by providing robust connectivity solutions for charging and swapping stations. The platform facilitates real-time monitoring, remote management, and data-driven insights, enhancing the overall efficiency and reliability of e-mobility operations. By leveraging digital platforms, Kazam optimizes the utilization of charging infrastructure and contributes to the growth of sustainable transportation.
Kazam has forged a partnership with BSES Rajdhani and BSES Yamuna to enable the profitable sale of energy. One of the key initiatives involves facilitating the establishment of charging stations for individual consumers. By implementing this infrastructure, Kazam aims to empower consumers with the ability to sell energy during non-peak hours, thus maximizing their profitability. To further support this objective, Kazam is actively engaged in developing a Proof of Concept (POC) for time-of-use pricing and surge pricing mechanisms.
Any future plans on expansion or any upcoming project the company is currently working on?
Kazam is currently in the process of developing comprehensive fleet management software tailored for three-wheeler and two-wheeler fleet operators, as well as catering to large players in the e-commerce industry. This initiative marks the next phase for Kazam, as they expand their platform to address the specific needs of diverse fleet operators.
Kazam is continuously focused on expansion and innovation. While specific future plans and upcoming projects may not be available, Kazam aims to expand its presence both within India and beyond. They are likely working on enhancing their software platform, forging new partnerships, and exploring opportunities to further streamline e-mobility operations. By staying at the forefront of technological advancements, Kazam strives to remain a leading player in the e-mobility software space.