Electric vehicle charging player, CharzNet has joined forces with BikeWo which provides 360-degree solutions for all kinds of electric vehicle needs.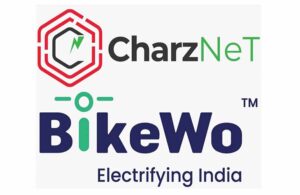 This partnership will focus on establishing a robust and accessible EV charging network across India.
Charznet is aiming to establish an extensive network of over 50,000 charging and swapping locations for 2W, 3W and 4W within the next year with an investment of Rs 70 crore.
This partnership with BikeWo will enable Charznet to leverage its vast dealer/ distributor charging network and expand its charging network to all the cities.
Chakravarthy Ambati, Co-Founder, CharzNeT, said, "CharzneT is one of the fastest growing EV networks in the country and this partnership will enable us to use our collective resources and achieve our vision of building the largest EV network in India."
He further adds that "We are at the beginning of the next big change in the mobility sector and a collective and collaborative effort among the EV stakeholders is essential for the growth of the EV industry. CharzNeT devices are made in India and we adhere to the highest safety standards. CharzNeT has a manufacturing capacity of 20,000units per month currently and plans to expand it to twice the amount in the next 18 months."
Vidhyasagar Reddy, Co-Founder, BikeWo, said: "We want to be a one-stop shop for all our customer's needs, where we provide bike sales, service, insurance, finance, accessories and most importantly charging infrastructure. Hence, this tie-up with Charznet will ensure world-class charging solutions to all our customers."
India is the next big market for EV mobility and a lack of a reliable and safe EV charging infrastructure is the major roadblock to the widespread EV adoption in the country and CharzNeTis committed to solving this, they have already established a network of 300 charging stations in major metros like Hyderabad, Chennai and Bangalore.