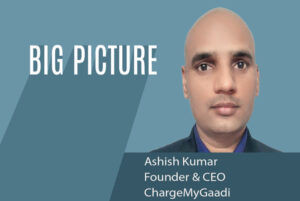 ChargeMyGaadi, a Delhi based startup aims at revolutionizing the Electric Mobility (e-Mobility) sector by offering a wide range of innovative solutions. It strives to provide e-Mobility solutions to help the stakeholders to setup customized EV charging stations and cater to their needs of Charging-as-a-Service (CaaS), Energy-as-a-Service (EaaS), Software-as-a-Service (SaaS), Battery Swapping Solutions in the best possible way. ChargeMyGaadi™ is one of the leading EV charging solutions provider in India, which works as an e-Mobility (eMO) & Charge Point Operator (cPO) operator. While talking with Nitisha from BISinfotech; Ashish Kumar, Founder & CEO, ChargeMyGaadi talks about challenges and scopes in the EV industry.
1. Kindly explain ChargeMyGaadi unique services and its special offerings?
ChargeMyGaadi acts as a platform that offers e-mobility solutions to its customers and develop chargers that are locally developed in line with the regulatory and guidelines of Make in India initiative. Our chargers are developed locally and are cheaper as compared to chargers which are imported. Our chargers are developed with high quality and much reliability as compared to imported chargers. We, at ChargeMyGaadi offers a wide range of solutions for EV Charging solutions, Battery Swapping Solutions and Energy Storage.
2. Electric vehicles are the future. What makes it different and how do you see the market?
EVs have already gained the importance and centre stage as the world is looking for environment friendly alternatives and solutions. Electric vehicles have gained a lot of traction in the present scenario due to associated cost benefits and environment cost benefits. The very much need of reducing the air pollution have increased and propelled the demand of EVs in the automobile sector. The environment cost benefits in adoption of EV makes it completely stand out. We see a lot of tractions coming in the market, also a lot of top brands are using this time to explore the consumer base through digital mediums and to improve loyalty and sustainable solutions. EV will soon be set and emerge stronger than ever.
3. Kindly highlight any unique project you are working on and also launch in the loop of coming time?
The Indian EV ecosystem will see an exponential growth in the EV industry. We are developing the on-board chargers (OBC Chargers) and Battery Swapping Stations (BSS), these products and services are being developed by very few key players in the industry. The company scheduled three product launches this year, SMART off-board charger for both L3 and L5 category and On-Board chargers with 3kW for Cargo segment.
4. How do you differentiate ChargeMyGaadi with other companies?
ChargeMyGaadi works with an objective of providing the chargers which are cheapest compared to imported chargers and are more reliable. We, at ChargeMyGaadi aim at bridging the gap between demand and supply of the chargers in the market. We are working towards bringing the radical changes in the educational sector with our EV training programs, equipping the industries with the required manpower. Company also assists in Job placements through our learning and development and with one of our programs of Fight Against Unemployment (FAU)
5. As the Indian government has extensive plans for EV and charging stations in India, what are your expectations? Please explain.
Government of India is taking a drastic steps and aggressive policies for the adoption of Electric Mobility. Key players in the market will be benefitted as the government plans faster adoption of EV thus helping in the manufacturing units set up at a faster rate than ever. Subsidies with the vehicles will indirectly boost the sales. We are continuously witnessing the rapid evolution and continues ongoing efforts in the EV industry. Government can support and promote the key players to build a strong and trusted network of EV by giving favourable government policies and support in terms of subsidies, grants, rebates and even there can be non-financial benefits for all.
6. How was the year 2019-2020 in terms of business? What will be your future marketing plan?
For either of the industry, year 2019-20 was not so good, we have experienced a slowdown from march and kick start from mid-October. Though the resources were less, less monetary profits but we were tending towards creating a huge customer base by aggressively promoting our product with a regular follow ups session to quench the lost benefit of the lockdown period.
7. What improvement have you seen so far during this new normal after COVID?
New normal benefits can only be summed up with making India self-reliant, many companies tend towards AtmaNirbharBharat, which we can witness as there a lot more companies manufacturing batteries and chargers, vehicles locally in India. Steps have also been taken to reduce the dependency even for the supply of raw materials and components for the industries. New normal benefitted us in creating a large customer base, as there was less import and more trust in Make in India. Soon, India will beat the global market in Electric vehicles manufacturing. Manufacturing of chargers locally have already seen an exponential growth in no time.
8. Kindly explain the challenges and scope in the industry?
Though the commercial EV segment is propelled, and it will gain an edge in no time. But apart from the commercial segment, things could take time. Industry also sees a lack of professionally adept technocrats in the industry, experiencing a gap between demand and supply with the required set of skills. The only challenge we faced the dependency of raw materials, that is being imported to uphold the manufacturing operations in the country. The scarcity of charging infrastructure is another deciding factor. Range anxiety in customer base and the non-standardization of batteries and chargers create a hustle in the industry a lot and always.
(Source-www.bisinfotech.com/)