Aimed to target a sustainable and greener option in the automobile industry, the introduction of electric vehicles has changed the face of mobility all around the world.
Fulfilling the mission of eminent leaders who strive to attain net carbon neutrality in the upcoming years, the adoption of Electric Vehicles (EVs) is counted as the first step toward clean mobility.
India's EV market is forecasted to emerge as a $7.09 billion opportunity by 2025, as per recent industry reports published. In line with the reports, the Indian government is set to formulate new measures to achieve 100% electric vehicle mobility by 2030.
Going back to the time when first EVs were manufactured, high initial cost, low battery range, very low speed, and multiple environmental concerns were some of the key reasons that failed to popularize EVs at that time.
However, in the last 10 years, we have seen abundant universal interest among original equipment manufacturers (OEMs), consumers especially governments, which has resulted in huge investments being made in EV manufacturing and battery technology.
This has resulted in the rapid sales of millions of electric vehicles in various countries.
However, this rapid growth in EVs is now accompanied by several other concerns, especially highlighting the Challenges of Electric Vehicles in India.
Diving deeper into the deep pool of concerns regarding the Challenges of Electric Vehicles in India, let us give you a glimpse of some of the major issues plaguing the Indian EV industry.
Challenges of Electric Vehicles in India-2022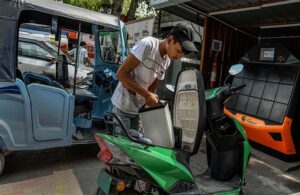 Keeping an account of the number of Challenges of Electric Vehicles in India, the list is as follows,
End User Challenges
Range Anxiety
Regarding end-user challenges, an EV driver has certain concerns about the range anxiety of an EV like how much can we travel for long distances on a single charge. This uncertainty hinders consumers to opt for the current battery technology installed in electric vehicles.
Charge Anxiety
Another major Challenges of Electric Vehicles in India lies in charge anxiety. This type of issue talks about whether an EV user will find a charging station in the first place. Not at present but the rate of increasing charging infrastructure establishment will soon overcome this challenge.
Time Anxiety
With the charging time estimated to take 3 to 4 hours in general, several customers are keen on time wastage and find the charging time too long and not feasible as per their requirements. Therefore, making up another Challenges of Electric Vehicles in India.
However, recently a few EV chargers having a charge time of 10-15 minutes have also entered the EV market that can overcome this concern soon.
Lack of Trained Personnel 
Being an emerging field in the market of automotive, EVs faced a lack of trained people which is another Challenges of Electric Vehicles in India.
Since the Indian industry is still struggling in its nascent stage, almost every automobile organization reveals the inefficient presence of skilled workers in areas of EV talent acquisition and development.
Impact of COVID-19 on Supply Chain- Fleet Charging
Apart from single EV owners who hesitate for lack of proper charging infrastructure, reliable electric connection for a fleet-owned and operated EVSE is another significant Challenges of Electric Vehicles in India.
Since the repercussions of delayed supply chain delivery still linger in EV charging station deployments and tenders, this will likely result in a 10- 15% deficit in the EV charging space in a few years.
Lack of Manufacturing & Research Faculties 
Due to incomplete manufacturing sites for electric vehicles, India is forced to import maximum components of the battery and spare parts for EVs.
This results in high EV costs and eventually makes a big difference in the overall costs of an ICE and electric vehicle, thus confirmed as another Challenges of Electric Vehicles in India.
Usually, a Li-ion battery in electric vehicles is built to have a lifespan of 6-7 years or can be stretched to 8 years. Due to this an EV owner is presented with no other choice than to buy a newer battery which costs nearly 3/4 th of the whole vehicle's cost.
Though many foreign investors, as well as industry experts, are seeing multiple announcements of establishing EV manufacturing sites all across the country, the time taken to make the sites functional is still far away.
Scarcity of EV Services Offered
If your ICE vehicle breakdown in the middle of the road, you can easily spot a mechanic within a comfortable range and can even call the services provided by certain brands.
However, this is not the case with electric vehicles, therefore making up another set of Challenges of Electric Vehicles in India.
Since there is a need for retraining repair professionals or finding newly trained workers, the technology of an EV is something a regular repair service network does not know of.