Bengaluru-based EV start-up Micelio Mobility has teamed up with Automotive Research Association of India (ARAI) and the Ministry of Heavy Industries (MHI) to establish digital twin centres for emerging automotive systems.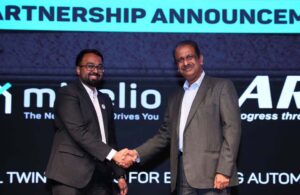 The centres are aimed at helping start-ups, MSMEs, researchers, and academia develop indigenous automotive solutions in the emerging EV ecosystem with lower costs, increased efficiencies, and safety at their core.
The centres will act as a virtual representation of real-life scenarios to facilitate and enhance simulations, testing, monitoring, and integration of clean mobility solutions.
"The collaboration…how it works is that ARAI knows the end-product and application, and all that has to happen and Micelio has got a very good group of young start-ups, MSMEs coming together, looking for new areas, new solutions. So, we believe that this synergy can be very productive, can bring in a lot of innovation," said Reji Mathai, director at ARAI.
As per Mathai, the manufacturers and innovators would not have to anymore wait till the entire product is developed to start evaluating it. These centres would enable the testing and diagnosis of different components of EVs under different testing environments.
Micelio said that it would help catalyze the clean mobility ecosystem for startups by facilitating the use of high-end, expensive, and emerging technologies like AI and ML, Hardware-in-the-Loop (HIL) system, and integrated computational materials engineering simulation platforms.
"Validation has been an integral part of the automotive industry for many years. Primarily, the purpose is to keep passengers and cargo safe, among other things. Over the last few decades, simulation has become a big part of that. In my view, this digital twin technology is an extension of that," said Shreyas Shibulal, founder and director of Micelio Mobility.
This is also a part of the Indian government's plan to build capabilities and various capacity enhancements for the development of the EV ecosystem, Mathai said.
ARAI and Micelio are planning to set up joint facilities in Pune, Bengaluru, and IIT Guwahati. They have set March 2023 as the target to put up some infrastructure for these facilities in place.
The centres are expected to be completely ready in the next two-and-a-half years.
The step to building engineering facilities comes at a time when India is witnessing a boom in terms of new and emerging EV players.
Meanwhile, NITI Aayog aims to have EV sales penetration of 70% for commercial cars, 30% for private cars, 40% for buses, and 80% for two and three-wheelers by 2030 in the country.
Amid this, the players need to adhere to the changing norms and ensure safety.