ActewAGL has introduced a pilot program with the Council of the Ageing and Goodwin Aged Care Services to provide better access for EV ownership to the seniors' community.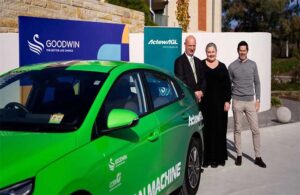 The new partnership between the three organizations will provide the Goodwin Home Care team with a complimentary Hyundai Ioniq EV fastback for 12 months which will be paired with an ActewAGL EV charging station.
"Transport is the single biggest contributor of carbon emissions in the ACT and surrounds, which is why we are focussed on helping the ACT community increase EV ownership," said Rachael Turner, General Manager of ActewAGL Retail.
"Goodwin places a great importance on minimizing the impact that we have on our environment," said Stephen Holmes, Goodwin Chief Operating Officer.
"We're grateful to ActewAGL for the opportunity to explore this new technology, and I know that our staff and home care clients are going to thoroughly enjoy the ride."
Goodwin Home Care nurses will use the EV to deliver care services to seniors all across Canberra and the surrounding regions.
Introducing the Hyundai Ioniq EV builds on the existing and extensive sustainability strategy already underway at Goodwin Village at Farrer, which with its 169 independent living apartments and 81-bed Residential Care Facility, will be powered by a large commercial solar system.