Tenstorrent has secured $100M in strategic financing up-round led by Hyundai Motor Group and Samsung Catalyst Fund, with participation from Fidelity Ventures, Eclipse Ventures, Epiq Capital, Maverick Capital, and more.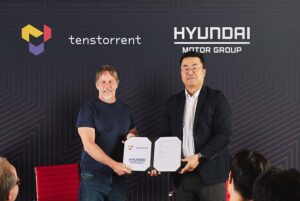 Tenstorrent sells AI processors and licenses AI and RISC-V IP to customers that want to own and customize their silicon.
Both Hyundai Motor Group and Samsung have a strong history of product leadership and enjoy massive success in their respective markets.
"The trust in Tenstorrent shown by Hyundai Motor Group and Samsung Catalyst Fund leading our round is truly humbling," said Jim Keller, CEO of Tenstorrent. "It has been impressive watching Hyundai Motor Group become the third largest automaker in the world through their aggressive adoption of technology including their acquisition of Boston Dynamics, their joint venture with Aptiv, and now their investment in us."
"Tenstorrent's high growth potential and high-performance AI semiconductors will help the Group secure competitive technologies for future mobilities," said Heung-soo Kim, Executive Vice President and Head of the Global Strategy Office (GSO) at Hyundai Motor Group. "With this investment, the Group expects to develop optimized but differentiated semiconductor technology that will aid future mobilities and strengthen internal capabilities in AI technology development."
"Samsung has long been a leader in the electronics industry and they are the ideal partner to co-lead this round," continued Keller. "We are excited by the opportunity to work together."
"Samsung Catalyst Fund invests in disruptive ideas that we believe can change the world," said Marco Chisari, EVP of Samsung Electronics, Head of Samsung Semiconductor Innovation Center. "Tenstorrent's industry-leading technology, executive leadership, and aggressive roadmap motivated us to co-lead this funding round. We are excited by the opportunity to work with Tenstorrent to accelerate AI and compute innovations."
Funding will be used to accelerate the company's product development, the design and development of AI chipsets, and its ML software roadmap.