Formula E has signed strategic multi-year relationship with the global comm tech company Tata Communications.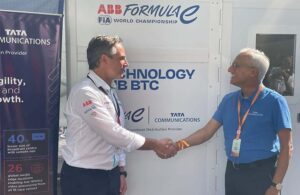 Tata Communications has become the Official Broadcast Distribution Provider to the ABB FIA Formula E World Championship.
The new agreement will see Tata Communications deliver high-definition, high-resolution and high-speed live broadcast content to viewers around the world as part of Formula E's new remote broadcast production of live races, reducing the environmental impact typical of major live international sports events on TV.
Tata Communications technologically advanced, software-defined media edge platform will deliver more than 160 live video and audio signals from Formula E races across continents within milliseconds, using 26 media edge locations across North America, Europe and Asia.
The new super-fast race broadcast distribution will be supported by Tata Communications specially trained experts, providing round-the-clock global end-to-end managed services at all 16 races this season. Tata Communications and Formula E are also working together to further enrich experiences for motorsport fans with innovation and efficiency.
Tata Communications will be making history with Formula E as the ABB FIA Formula E World Championship races in India for the first time.
Viewers around the world follow the action live as 22 drivers from 11 teams including Mahindra Racing, Jaguar TCS Racing, Maserati MSG Racing and NEOM McLaren Formula E Team compete in the 2023 Greenko Hyderabad E-Prix.
Jamie Reigle, CEO, Formula E, said, "Formula E is an intense tour given its on-the-go nature. Tata Communications' support over the years has enabled state-of-the-art remote production possible, with real-time TV signal transmissions from the race venues to our broadcast centre in London and finally to the audience's screens. Thus, bringing down multiple logistical challenges, driving cost efficiencies, travel flexibilities for our employee, especially women, and reducing emissions."
A.S Lakshminarayanan, MD and CEO, Tata Communications, said, "There are 85 cameras capturing the event for over 400 million people watching all over the world. To be able to facilitate that truly speaks about the power of internet that we have been able to leverage, with our dedicated media cloud and edge computing capabilities. And apart from our long-standing partnership with FIA, we extend the services to multiple major sporting leagues across the world."