Tata Passenger Electric Mobility announced a new brand identity, christened TATA.ev, as it gears up to introduce ten new battery electric vehicles by 2026.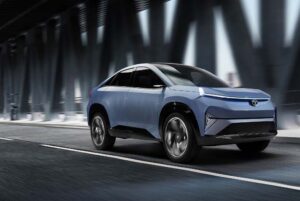 As the EV offering grows, spurred by surging consumer demand and a robust, thriving product lineup, customers expect a unique experience across all touchpoints, from the brand to the product and its ownership cycle, Tata Passenger Electric Mobility, a unit of Tata Motors, said in a statement.
Commenting on the new brand identity, Vivek Srivatsa, Head, Marketing, Sales and Service Strategy, Tata Passenger Electric Mobility Ltd. said, "We are entering a new era with TATA.ev. Our new brand identity for electric vehicles underlines our commitment to accelerate the adoption of clean energy mobility solutions. We intend to drive positive change in the automotive industry with the focus on sustainability, community, and technology.
"Both the products and services are intended to create highly differentiated and meaningful consumer experiences. The brand personality is humane, honest, invigorating, and conversational – a rallying point for those curious about having a better impact on the world."
The new 'sub-brand' will encompass a new design language and communication on the products itself, and also across different touchpoints moving forward.
With a dominating market share of over 70 per cent in the four-wheeler EV segment, the automaker intends to drive a positive change in the automotive industry with the focus on sustainability, community, and technology, he added.
Tata Passenger Electric Mobility Ltd, a subsidiary of Tata Motors with TPG Rise Climate as an investor, aims to invest $2 billion by 2026 to launch ten new electric vehicles, build a dedicated BEV architecture, support local manufacture of key components and development of advanced automotive and battery technologies.
It also intends to catalyse the creation of a widespread charging infrastructure as well as growth of other infrastructure to facilitate rapid EV adoption in India.
Tata Motors expects electric vehicles to account for half of its passenger vehicle sales by 2030. The automaker aims to sell around 1 lakh EVs this year.
The company's current EV portfolio comprises the Nexon EV range, Tiago EV, Tigor EV and the XPRES-T EV.