British luxury car, Rolls-Royce, which began its journey in early 1904 in Manchester, United Kingdom, has recently given an update on how its first electric car, the Spectre, is getting tested on French Riviera.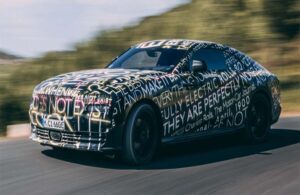 Firstly, the Spectre ventured up to Arjeplog, in the Swedish Arctic Circle where manufacturers put new vehicles through arduous cold-weather testing.
Rolls says the Spectre's testing program is about 40 per cent complete – prototypes cars are off to spend their summer in the south of France.
The car is getting tested on French Riviera where they will complete almost 400,000 miles of test driving, both on public roads and at a test facility called the Autodrome de Miramas, which features almost 40 miles of roads and 20 test track environments (including a three-mile banked bowl) to thoroughly hone the car.
Developing and testing new cars, let alone a company's first EV, is a long and arduous process full of tedious stress-testing and problem-solving. The French leg of Rolls' Spectre development will see prototype vehicles have their new electronic suspension fine-tuned to ensure the extra weight of a big battery doesn't spoil the brand's famously soft and comfortable ride.
The car's Flagbearer system has been upgraded to improve cornering and ride quality
Speaking of which, Rolls-Royce says its Flagbearer system, where GPS and a camera is used to prepare the suspension for upcoming corners, has been upgraded.
The company said: "Once a corner is confirmed as imminent by satellite navigation data and the Flagbearer system, the [anti-roll bars] are recoupled, the suspension dampers stiffen and the four-wheel steering system prepares for activation to ensure effortless entry and exit. Under cornering, more than 18 sensors are monitored, and steering, braking, power delivery and suspension parameters are adjusted accordingly so that Spectre remains stable."
The company says the Spectre is the stiffest Rolls-Royce yet, by some 30 per cent thanks to the integrated battery pack, and with a drag coefficient of 0.25 it is also the more aerodynamic – something that helps improve range while also reducing wind noise, which will have no place to hide with no V12 engine under the prow.
Although no doubt a bonus for test drivers, there's a good reason for Rolls-Royce to develop the Spectre on the roads of the French Riviera – this is where a great many owners like to drive their cars.
The company adds: "This provision for testing under local, real-life conditions is repeated in key markets around the world, as the marque goes to painstaking lengths to ensure that its products meet – and so often exceed – the expectations of its highly discerning customer group."