Infineon Technologies has rolled out TLE988x and TLE989x families extending the company's comprehensive and proven portfolio of MOTIX™ MCU embedded power ICs.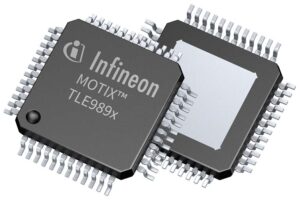 By integrating a gate driver, microcontroller, communication interface and power supply on a single chip, Infineon's system-on-chip solutions achieve a minimal footprint.
The new TLE988x and TLE989x families offer higher performance and now feature CAN (FD) as the communication interface.
The ICs are AEC Q-100 qualified, making them ideal for automotive brushed DC and brushless DC motor control applications in body, comfort, and thermal management applications.
 "The new MOTIX MCU embedded power ICs families address our customers' needs for the smallest integrated smart motor control solutions with fast and very robust on-chip CAN FD transceivers for host communication," said Andreas Doll, Senior Vice President and General Manager Smart Power at Infineon. "The new product families additionally offer approximately 60 percent more processing power compared to the well-established TLE987x product family and provide functional safety and cybersecurity functions which are becoming increasingly important for oil pumps in thermal management systems in electric vehicles."
The new devices use a B4 or B6 bridge N-channel MOSFET driver, respectively, an Arm® Cortex® M3 microcontroller, and a CAN (FD) controller and transceiver supporting a communication speed of 2 Mbps.
Customers benefit not only from fast and robust communication but also from the highest computing performance thanks to the high system frequency (60 MHz) and its dual flash enabling read-while-write operation.
The MOTIX MCU TLE988x 2-phase bridge driver family and the MOTIX MCU TLE989x 3-phase bridge driver family include multiple devices which offer flash sizes of up to 256 kB and support temperature ranges (Tj max) up to 175°C.
In addition, the power ICs feature Infineon's patented Adaptive MOSFET Control algorithm, which compensates for the variation of MOSFET parameters in the system by automatically adjusting the gate current to achieve the required switching.
This allows the system to be optimized in terms of EMI (electromagnetic emissions, slow slew rates) and at the same time, power dissipation (short dead times). Adaptive MOSFET Control also enables supply chain flexibility by maintaining the same switching behavior across variations in MOSFET production lots or differences between MOSFET suppliers.
To accelerate the evaluation and design-in process, the MOTIX MCU embedded power ICs are completed by a comprehensive ecosystem that includes software, evaluation boards and kits, as well as several tools for simulation, configuration and visualization. Infineon also offers a 150 W coolant pump reference design.