In order to improve the efficiency of using charging piles, the State Grid Suzhou Power Supply Company has recently developed a rail-mobile shared flexible EV charging robot system.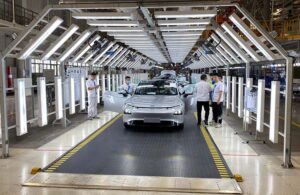 The EV charging robot system leverage technologies including robotic control and the Internet of Things (IoT) and combining advanced flexible orderly charging control technology.
Recently, China's first all-electric shared EV charging robot system developed by the State Grid Suzhou Power Supply Company was put into operation in Suzhou, Jiangsu Province.
According to the official introduction, users only need to scan a code with his smartphone to activate the charging process, after which the automated robot will grab an idle charging pile and move it to the top rear of the electric vehicle.
The owner can then take the charging gun and plug in their vehicle. Once charging is completed, payment can be made through the smartphone applet and will allow users to settle with digital RMB.
At the same time, the robot can also realize flexible and orderly charging in combination with community load, which will help save investment in charging facilities and social resources.
Residents are also exempted from the economic investment and the pain of maneuvering around the installation of charging facilities.
The whole EV charging robot system adopts a unified operation and maintenance management to ensure safety during charging.
In the next stage, the company will actively carry out the distribution application of the system in older residential areas, public shopping malls and newly built communities.
To solve the current problem of charging facilities entering the community, Suzhou issued a document on February 25 this year, requiring all parking spaces in newly-built residential quarters to reserve 100% access conditions for the construction and installation of charging facilities, and charging piles with orderly charging (discharging) functions should be built according to no less than 30% of the total number of parking spaces.
Recently, the Suzhou Municipal Government has also set the goal of building 200,000 charging piles by 2025 to meet the charging and battery swap demand of about 380,000 electric vehicles.