Riding high on the large-scale adoption and promotion of clean mobility solutions, Electric Vehicles (EVs) has seen a high jump in the sales of two and three-wheeler segments in the last few months.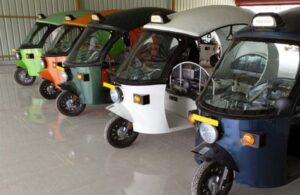 A strong revival has been seen in e-three-wheeler sales in May 2022 albeit at a low-year ago base.
Last month, three-wheeler sales saw an eight-fold growth over May 2021, selling 41,508 units, compared to 5,215 units in May 2021.
The interesting aspect of three-wheeler sales in May 2022 is the sales of electric three-wheelers, as for the first time, they have surpassed that of their ICE counterparts.
In May 2022, electric three-wheelers witnessed sales of 21,911 units, compared to 19,597 units of ICEs.
After witnessing a dip in sales in FY21, electric three-wheelers have seen strong growth of 101 percent selling 1,77,874 units in FY22, and are on a path to surpass FY23's expectations if the last two month's trend continues.
The e-three-wheeler segments have surpassed the diesel, CNG, and LPG offerings, accounting for more than 45 percent of three-wheeler sales in the domestic market, which is the largest in the world.
The push toward clean mobility, specifically electric mobility in the e-commerce segment, first and last-mile connectivity, cargo, waste management, and freight loaders have helped the segment grow. Also, the ease of swapping discharged batteries with fully-charged ones in three-wheelers has helped many sectors move to EVs.
A study by the World Business Council for Sustainable Development (WBCSD) and Flipkart shows that 100 percent electrification of e-commerce fleets is possible and the Indian e-commerce industry is already using over a million EVs.
The pandemic and lockdown brought many businesses to a halt, affecting the automotive industry as a whole.
The E-three-wheeler segment, which was still at a nascent stage, took a while to recover.
As normalcy is slowly returning, companies are looking toward e-mobility and if the financing structure improves, the industry is looking at multiple folds of growth in the coming years.