Bajaj Auto has decided to accelerate its plans for expansion in the electric vehicle (EV) segment for both two and three-wheelers.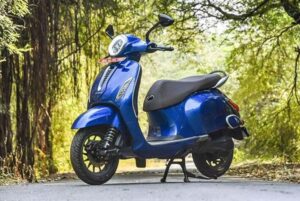 It has lined up new launches and investments, having moved past the stages of testing product performance in the real world and consumer responses.
The Pune-based company has earmarked Rs 400-500 crore towards investments in EVs in FY24, its senior management said on a post earnings call.
The funds will be used to set up a new electric three-wheeler facility in Aurangabad and for making dies and moulds of its upcoming electric two-wheelers housed under the newly formed company, Chetak Technologies.
After a delay of more than two years, Bajaj, which has been the market leader in the ICE or internal combustion engine-powered three-wheeler segment for several years, entered the electric three-wheeler segment in a restricted manner, with operations spread in only two cities.
While Agra has seen the launch of the passenger electric three-wheeler, Pune received the cargo model.
The two cargo variants of the Maxima Cargo E-TEC have received approval for an incentive of Rs 89,000 and Rs 111,505 under the FAME-2 scheme.
The passenger variant, RE E-TEC, has an incentive of Rs 89,000.
"We have received an outstanding response, particularly on the passenger variant. The driving range (provided by the vehicle) has exceeded expectations. We had planned to keep the launch low key for three-six months. We will start scaling up production from September onwards," Rakesh Sharma, Executive Director, Bajaj Auto.
The ICE three-wheeler segment has been growing the fastest in India compared to other automotive segments. It saw a growth of 90% in the June quarter. Bajaj has a 68% share in this space.
The electric three-wheeler segment has achieved penetration of 6%, with Mahindra & Mahindra being the leader.
Chetak, the debut model from Bajaj in the electric two-wheeler segment, will get new variants starting this year.
The company had increased Chetak's production three times to 10,000 units a month in May before slowing down in June due to the cutback in subsidy by the central government.