Ather Energy has decided to begin exporting its zero-emission e-scooters from India to neighbouring countries.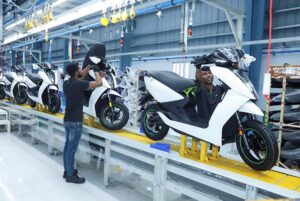 The company says that now that it established a good foothold in the Indian EV market, where it is currently the No. 3 player, and being equipped with ample manufacturing capacity of 420,000 units at the state-of-the-art plant Tamil Nadu, it has the bandwidth to cater to exports.
Ather Energy is consistently witnessing strong buyer interest from overseas markets such as Latin America, South East Asia, and Europe.
"For the longest time, we have been getting inbound demand from these strong markets, and we have actually been warding it off a bit for a while because the domestic opportunity has been so huge," Ravneet Singh Phokela, Chief Business Officer, Ather Energy, mentioned on the sidelines of the ACMA annual convention in New Delhi.
"With finite resources and energy, we prioritised the domestic market. But, our firefighting days in our domestic operations are now over, and today we have the bandwidth to look at international markets," added Phokela.
Ather Energy could commence exports shortly and, according to Phokela, "We might announce something on these lines very soon, and if things go as per plan, perhaps in the next couple of months itself."
Ravneet Singh Phokela: "For us, it (exports) will not be a short-term volume game, we will build a brand for a long-term play."
While markets like Thailand in the South East Asia region are on its export radar, the company is likely to test the waters in neighbouring countries, which are similar to India in terms of the demographics, as well as usage patterns of scooters.
"The idea is to dip our toes in a market which is not a huge departure from India. If we directly go to Europe, it is a very different market, not only from a consumer, but a product point of view as well. Homologation, for instance, is like a year-long exercise there," said Ather's Chief Business Officer.
"We want to take baby steps and certainly will not hit an extreme market like Europe or North America, but start with some other markets," informed Phokela.
When queried as to whether Nepal and Bangladesh could be its initial destinations for made-in-India Ather Energy electric scooters, Phokela responded by saying "generally in the region", hinting at a strong possibility of the company commencing exports to these neighbouring countries first.
"Unlike many players (Chinese OEMs), we do not want to randomly show up in a new market, put multiple products in a showroom, and start selling. We want to launch as a brand, and that is always more difficult. For us, it will not be a short-term volume game, we will build a brand for a long-term play," pointed out Phokela.
While going international will not initially require much investment, the company says it will only need to raise more capital if it eventually wants to achieve its ambition of having a local assembly overseas. "It is silly to jump straight into an overseas assembly setup. We will first seed the market, understand it, and see the product market fit, and then, in the long run, consider assembling products locally, which is a much larger play," concluded Phokela.
Ather Energy is one of the 150 players in the market which sees the bulk of sales cornered by the Top 10, which accounted for 494,862 units in the January-August 2023 period or an overwhelming 90% of total sales.